Tiny Treasures...
Finding Fossils in Lake Rocks!
collected during a Summer Outing at the Granger Dam ... Granger, Texas
...if you look real close you can see the person walking along the shoreline in the picture on the left...

Sometimes Bears can be found in the rocks, as well...
Lions and Foxes and Bears... oh MY!
and Wolves.
...and pinky purple Cheshire Cats...
And Holes...
Sea Brick
caught the Dollmaker's attention during a trip to the Seashore...
Sea Brick Holes...
Holey Brick!
strangely tantalizing Sea Brick Holes...
from the Texas City Dike...
Sea Brick Holes! What?
...the Dollmaker is just going to love doing Something with those
intriguing holes...

Image b
While in Galveston, there was much discussion on the subject of
Beachcombing around the World and
the collection of Data -
On January 10th, 1992, the Greek ship Ever Laurel left Hong Kong fully loaded
with plastic Bath Toys..
28,800 Red Beavers, Blue Turtles, Green Frogs and Yellow Ducks...
During a violent storm, two columns of shipping containers
stacked six high above deck snapped loose from their lashings and tumbled overboard..
These Bath Toys floated across the Pacific Ocean and,
years later, began to wash up on beaches up to 2,000 miles away.
People started to collect them, and eventually Oceanographers got involved and spills of this nature
began to be studied. Using coordinates reported by Beachcombers they were able to reconstruct
the Drift Routes of
not only the 28,800 plastic Beavers, Turtles, Frogs and Ducks
from that one capsized shipping container incident in 1992
but they were also able to track some of the 80,000 Nike sneakers
which are still washing up on shorelines around the world...
http://faculty.wwu.edu/wallin/envr325/tubtoys_ocean_circ.pdf
The gist of the story is here- online- an Amazingly good read:
https://books.google.com/books?id=yKPqty4knx8C&pg=PT13&lpg=PT13&dq=beachcombing+shoes
+and+toys+data+collection&source=bl&ots=jGxUcC9hDS&sig=v7bPwytykqxwiE-IIGSdmRkkTZY&hl=en&sa=X&ved=0CC8Q6AEwAmoVChMIi6LWju-
DxwIVTIoNCh3ehAno#v=onepage&q=beachcombing%20shoes%20and%20toys%20data%20collection&f=false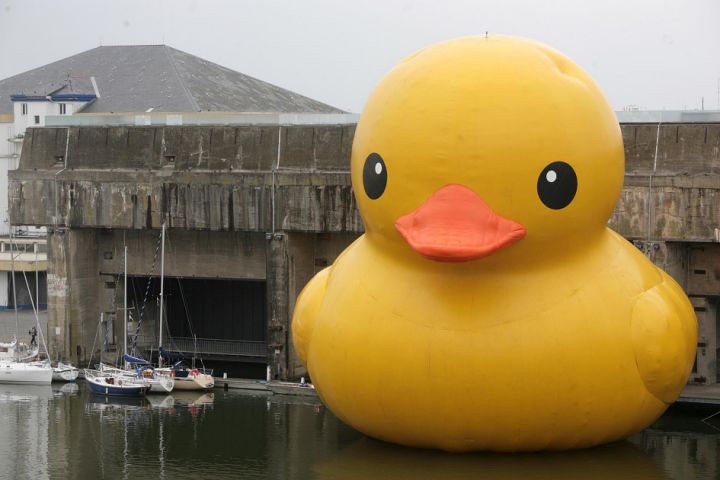 It's an interesting subject...
typically 3% of the capsized loads have been reportedly recovered...
Where are the rest of them?
It's true that almost always... one can find Seafaring Shoes...
"Lost Soles", as it were...
...but did you know that certain people count the Left Shoes and Right Shoes deposited upon beaches around the globe?
Lefties and Righties travel somewhat differently in the big picture...
Tally claims to have found way more left shoes than right shoes on Galveston Island, for example...
(and she would certainly know!)
Tales of the Sea...
yes, for the Dollmaker, it was indeed a Sea Toy Day...
Evidently, one group of objects used for data collection is Legos!
So, may it be noted that the Dollmaker found a Lego on Bolivar Penninsula!
...in certain special gardens...
waiting very quietly, sometimes one can spot them in transit...
Passing beneath the Gate of the Pink Flamingos,
a troupe of Smallfolk emerge from the underbrush, assembling in front of the steps...
Mindfully, Owl leads them down the Garden Path in the direction of Bowling Ball Alley and the Wall of Lost Soles...
The Dollmaker would NEVER turn down an opportunity to play "Doll Parade" with 28 insistent Wee Peeple Dolls
who practically leapt off of Tally's shelves and bookcases upon the mere mention of a Garden Romp!
Such Fun! The Dollmaker did not know how... or IF... Tally got them all back inside again...
...for as she turned away, she heard the scuffling of little feet behind her...

They Followed us!!!
Prevailed upon by an intrusive Flock of Flamboyant Flamingos
who availed themselves of our Festive Occasion to opportunistically photo-bomb Becky's every Birthday Picture...
it spontaneously became
Even the Smithsonian commemorates Pink Flamingos in human history!
First conceived and designed in swinging 1957, Pink Flamingos are natives -not of Florida-
but of Leominster, Massachusetts,
a city which bears the distinction of being:
the Plastics Capital of the World.
A flamingo-friendly trend started when
post-war homes in new subdivisions
unfortunately
came out looking virtually identical to one another.
Sculptor Don Featherstone was hired by the plastics company, Union Products,
to bring Pink Flamingos to the mass consciousness
using the then-revolutionary injection-mold technology.
"You had to mark your house somehow," Featherstone says.
At first
Pink Flamingos were considered elegant and "tropical".

That soon changed. The Woodstock era romanticized Nature and scorned Plastics (à la
The Graduate
).
Cast in
flaming pink polyethylene, the Flamingo became an emblem of the "T-word"—tackiness.
Nevertheless, inexplicably,
the initial outrage and sarcasm spawned by the Invasion of Plastics was destined to
levitate through the funky aesthetics of the
1960s
as pop artists, including Andy Warhol and Claes Oldenburg
began elevating mundane sensibility and embracing mass culture.
So Pink Flamingos unsteadily ambled back into Vogue..
oh but Then...
In 1972 John Waters named his shocking cult movie, starring the indomitable Divine...
(It rates 4th on the list of the 50 Most Disturbing Movies of All Time)
"Pink Flamingos"
both an abomination and an instant classic...
(in spite of having nothing whatsoever to do with actual Pink Flamingos)
John Waters, when consulted,
maintained that plastic lawn flamingos should be kept inside,
"like pornography."
and yet, moved by a
Santa sleigh drawn by a dashing team of Pink Flamingos in his own yard, he once admitted:
"I almost cried when I saw that. I thought it was so sweet!"
"By the mid-1980s, Pink Flamingos had transitioned from a working-class bauble
to an elaborate upper-class inside joke.
They furnished colorful substitutes for croquet wickets and
clever themes for Charity Galas...
The Pink Flamingo became a sort of plastic punch line..."
...a practical Symbol
for the Intention to introduce friendly non-sequitur Absurdity into ordinary reality...



Read more:
http://www.smithsonianmag.com/arts-culture/the-tacky-history-of-the-pink-flamingo-18191304/#ejyP2SLHFtvkLLoP.99
Starting up with Locks again...
Purple and blue locks are a Must for Witch hair!
It won't be long now- Witches are coming!!!

the Dollmaker has once again become interested in
Volunteering at the Library, the Dollmaker found stacks of Old Doll Books in the "For Sale" Section...
PERFECT for Collages.
Wild Gourd Vines around here do whatever they want- some go up into the trees, some "Designer Pumpkins" reverted back to their
original grafting stock (completely confounding the Gardener)... she never knows what oddities will sprout from these vines...
Zinnias, Crape Myrtle and Daturas still dominate in the Floral Department, but everything is already going to seed...
Those three renegade gourds in the middle all came from one little orange Mini-pumpkin's seeds... hmmm...strange...
The Four Garden Gates in July
(thick with Wood Rose, Crossvine, Wisteria, and Hyacinth Bean Vine)
It's starting to get HOT around here... it being July and all...
and the garden soil begins to harden and lose it's moisture
but if one happens to have a few pails lying about in the yard...
it is possible to fashion a primitive Drip Irrigation system to keep the soil moist
It's "self-watering" for a few days...
Thanks Shannon Stacy for this great gardening tip!
Thanks goes out to: