Belts... which are also sort of Skirts...
...for the procession of Fantastical Characters marching off-road
through Lands of Myth and Imagination...
make sense
as a natural extension

of the Dollmaker's typical

Streaming Style...
One of a Kind Art-cycled Wearables
sometimes starting with an ordinary pair of pants or shorts
colorful fabrics and trims, rings, chains, fringe and even small purses can be added
The Stream

Wall Art from 2016
"Cool Clothing Conversions"
could mainstream

as Bridal Attire...

or could even work as...

dare the Dollmaker suggest... Lingerie!
and Faery Wrapsodies...
many in "Plus Sizes"...
the "Sometimes Steampunk" Blue-Jeans Style...
the "Honeymoon on Neptune" formerly known as "The Accidental Bride"
and beyond that, it's just "Uncharted Waters", folks...
For example: This Special Order
Dog Handler's Beltskirt!
...featuring five original pockets and two pouches
for carrying doggie treats and a doggie comb out into the Dog Show Arena.
(here Susan is trying it on for the final fitting... she will be wearing it with a black skirt or black pants and boots for the Dog Show)

Practical Fantasies
...for people who bridge Worlds.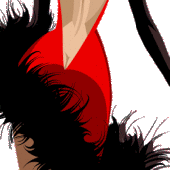 Thanks goes out to:
and

Cool Text: Free Graphics Generator
and
Web Counter

Back to Home Page

06/17
07/17