The Wee Peeple Newsletter
January 2022 Issue 179
In the end, we all become stories.
-Margaret Atwood
If the Dollmaker was there,
it was likely that John was somewhere around there too...
The Dollmaker's really good friend,
Driver, and all around traveling companion
John Bond
has gone on
to the Great Beyond.
For the last 12 years
John and the Dollmaker went everywhere together
even though they lived 120 miles apart.
(He, in Houston, she in Smithville..)
John would drive all the way from Houston
to help the Dollmaker with the huge job of
carting, loading and driving boxes of Dolls
aaand... coolers, overnight bags, boxes of display fabrics,
food boxes, office and packaging supplies etc etc etc
hundreds of miles to and from her Shows!
Mostly but not limited to
Woman's Conferences, Scarborough Faire, and the Texas Renaissance Festival
(He also put in quite a lot of walking miles on certain sites!)
John was always that handy guy behind the scenes...
He bought his signature

"tie-dyed sweatshirt"

on that trip to Florida...

He was wearing that sweatshirt

in the last picture the Dollmaker ever took of him...

He drove the Dollmaker everywhere she wanted to go!

...to Hot Springs, Arkansas, where they hunted crystals,

to Llano, Texas, for the Rock-Stacking Festival...

to Garland to visit Family, and Galveston for shell collecting...

He was always happy to have an invitation to come to

and he annually drove the Noble Steed while

home-girl Dollmaker navigated competitively

through narrow streets during many exciting

Smithville City-wide Garage Sales!

The two of them even had some adventures

in Florida together

...like that time when they simply Had to

get over to an Island made of Fossils..

but neither one had ever

operated an outboard motor....

John always wanted to ride a motorcycle

down through the Keys

to Key West...

They did go to Key West,

but not on motorcycles...

(that's probably where he is now... just sayin..)
John loved Rainbows and motorcycles and little felted Owls.
He loved Janet Evanovich and Food.
He loved his silver Truck (the Noble Steed), Food..
Grace Slick, Patron Tequila, All types of Food..
Dragons, the Fabulous Furry Freak Brothers;
his eight Chihuahuas- aka: "the Furry Horde"....
Arsene (the magician/mime/juggler at the Odeon Stage at TRF...)
(...He rarely missed the 9:30 AM Show...)
He had to own almost every book he ever read
and almost every movie he ever watched.
And he Really loved going out to dinner!!
It's worthy of mentioning that
what endeared him especially to the Dollmaker was that
(long before he became her Driver)
John loved and collected the Wee Peeple Dolls...
He had his own collection
of mostly bright and cheerful ones.
A lot of work, a lot of fun, a lot of laughs...
and a whole lot of highway miles...
The Dollmaker will miss her dear friend and Road Warrior.
He was a good man... always there for her.
She shall never forget him.
...with heartfelt gratitude for the Life of John Bond...
July 2,1952 - January 23, 2022
"Peace, Love, Eat at Joe's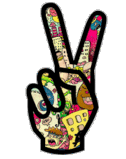 and Safe Journey, John.
Call me when you get home."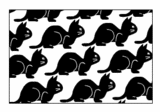 a sad time...
but one day...
there appeared...
in the Dollmaker's mailbox...
a small ray of light.. a little Rainbow...
a sweet child's drawing
sent to the Dollmaker
to thank her for the
Wee Dolls she got for Christmas...
and look at that!
The Dollmaker is even in the picture too!
Heartfelt Thanks

goes out to

The Artist: Miss Bella

(8 years old)

The Dollmaker loves her long eyelashes

and jaunty hat!

Bella even remembered

the pink corsage

the Dollmaker wore that day....

After long days thinking about John,
it felt good to move colors around...
(2022 is the Chinese Year of the Tiger)
After taking most of the month off
The Dollmaker still didn't feel very inspired to make
the first Doll of the Year...
ok, so the only new doll this month was
a figure with the head of a burned-doorknob... sigh.
In the immortal words of John Bond...
"OH WELL!"
Anyway it seems like a good time to look back on decades of
the Dollmaker's Assemblages made from
In the year after the fire

the Dollmaker

"found" a lot of "objects"...

a bunch of burned

scorched metal objects

mementos from the apocalypse chapter of her-story...

burned...

No longer strictly ...functional...

yet asserting their characteristic shapes...

Oxidized and Flaked, naked and mocking husks

stubbornly representing a bygone purpose

mere shells, standing firm..

still recognizable.. as shades...

soldiering on...
possibly destined to be salvaged as
"art materials"..
Found Objects...

always so useful

in creating

Steampunk characters...
"A writer must think that

whatever happens to him or her is

a resource."

"All that happens to us, including our misfortunes...

all is given to us as raw material, as clay,

so that we may shape our art."

...said author Jorge Luis Borges.
"Every act of creation is first an act of destruction".
-Pablo Picasso
If you were a bird, and lived on high,
You'd lean on the wind when the wind came by.
You'd say to the wind when it took you away:
"That's where I wanted to go today!"
-A.A. Milne

Back to Home Page
Thanks goes out to:

Cool Text: Free Graphics Generator
and
Web Counter