All presumably wearing his same style of mystical pointed hat...
said to increase Learning!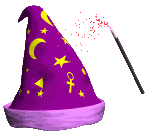 Yes, John Duns Scotus knew, even then, that Wizards wore pointy hats!
The apex or tip of the hat was thought to "funnel" knowledge to the wearer!
So, anyway, for 200 years following Duns death in 1308,
the "Dunsmen" taught his hopelessly tedious religio-intellectual speculations
at prestigious universities around Europe.
Thankfully, that came to an end, during the Renaissance, an era known for it's sensibility,
Whereupon, the "Dunsmen" were kindly referred to as: "old barking curs."
or... Dunces...
And the Pointy Hat was implicated and maligned.
Through no fault of it's own.