In China, the Phoenix is called the businiao-

literally "Immortal Bird".

There is an East Asian variant, the fenghuang, a mythical bird similar to the Phoenix.

It is one of the most respected legendary creatures in China

and the feminine counterpart to the Dragon.
| | | |
| --- | --- | --- |
| | Originally, the Phoenix was identified by the Egyptians as a stork or heron-like bird called a benu, known from the Book of the Dead and other Egyptian texts as one of the sacred symbols of worship at Heliopolis- closely associated with the rising sun and the Egyptian sun-god Ra. | |
The Greeks subsequently pictured the bird more like a peacock or an eagle and identified it with their own word Phoenix (Φοίνιξ), meaning the color purple-red or crimson (cf. Phoenicia) or a palm tree.

According to the Greek mythology the Phoenix lived in Phoenicia next to a well. At dawn, it bathed in the water of the well, and the Greek sun-god Helios stopped his chariot (the sun) in order to listen to its song.

Herodotus spoke about the unique capability of the bird to be consumed in the flames and be reborn from the ashes.
The Basic Legend
The Phoenix is a mythical bird with a colorful plumage and a tail of gold and scarlet (or purple, blue, and green according to some legends). It has a 500 to 1000 year life-cycle, near the end of which it builds itself a nest of twigs that then ignites; both nest and bird burn fiercely and are reduced to ashes, from which a new, young phoenix or phoenix egg arises, reborn anew to live again.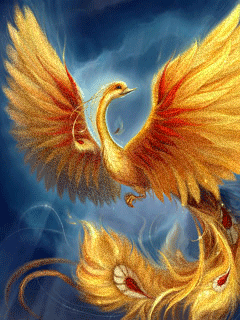 The new phoenix is destined to live as long as its old self. In some stories, the new phoenix embalms the ashes of its old self in an egg made of myrrh and deposits it in the Egyptian city of Heliopolis (literally "sun-city" in Greek).
It is said that the bird's cry is that of a beautiful song. The Phoenix's ability to be reborn from its own ashes implies that it is immortal, though in some stories the new Phoenix is merely the offspring of the older one.
In very few stories they are able to change into people.
-Wikipedia