The Wee Peeple Newsletter
June 2016 Issue 112
Do Fish smile?
...when they see humans underwater... oh yes.
The Dollmaker sort of shared in a moment of fish humor...
in spite of the suspicion that she was, herself, being smugly regarded by the indigenous population as
Ungainly, Misshapen and Pitifully Slow- a helplessly easy target for "cruel fish jokes"...
she found the Underwater World otherwise quietly, dizzyingly Timeless
while "swimming" (No, Virginia, one cannot HEAR a fish chuckle.)
with an Underwater Camera! Jollystockings!
See the small Barracuda near the surface:
...and there is another fish under the rock...

The Dollmaker doesn't go snorkeling often...
but when she does, she keeps her feet up off the bottom...
ok, so... What-all's with the "World of the Fishies"?
ahem. The gentle but discerning reader will have noticed...
How Last Month's Issue did Deviate somewhat significantly
from the Principal Subject of
Dollmaking...
alas... Deviant Behavior seems to be "Trending"...
...as we digress to...
(Cozumel: an island city right off the coast of the Yucatan Peninsula)
(yes... an Airport-required International Flight: Always the Promise of Mind-Numbing Misadventure...)
Invited by savvy friends, Kandy and Chuck, who live on the Island year round
and escorted by roguish, intrepid, kilt-wearing Adventurer, Larry...
the Expedition started with....
Blasted, Saturated, Captivated by Color, Primal Color, In-Your-Face Color!
Cozumel is a city of Huge Paintings that go on for blocks....
we took the "Driving Tour"... (Chuck drove, Kandy had the Mural Map)
whereupon

the Dollmaker's head spun as drenching colors flashed by on both sides of the car!
It became apparent
that there are many many more Murals in the City than on the Map!
Folk-Art Murals
Bigger than Life and sometimes Surreal
What could they be saying here...?

maybe...

The Fruit is Watching.

So are the Barbed
Tentacled Floating Things.

Watch out for the Kraken.

Don't lose your head.

Have a strange day.
oh well, you know how ART can often transcend Confusion...
Nevertheless!
The murals were Amazing.
Mayan Ruins at San Gervasio were pretty Grande too...
One day the Dollmaker casually asked Kandy and Chuck if there were any
"NICHES" in town-
as she loves to take photos of "the Sacred" in Unexpected Places...
well, she was in no way prepared for the impact of
...these are the streets where the Dead live-
Blimy, it's a Wee Village!
The Dollmaker was struck speechless with Wonder upon entering this quiet "Residential District"
with clean roads, sidewalks, monuments and hundreds and hundreds
of Really Darling Cozy little Cottages for the Dead!
She was blown away by the Sacredness and Sweetness of the Whole Idea!
The sense of "What is Precious" so Understood... so Embraced...!
One could navigate through "neighborhoods" of Holy Home-Sweet-Homes
where Family Members have labored with Love to provide the Dearly Departed
with Altars, Arches,
Gateways, Columns, Niches, Statuary, Inlaid Tile, Domes, Crosses, Minarets, and Stained Glass...
each Shrine a Temple, a Playhouse, a Masterpiece...
..and then they add "the Decorations"!
...flowers, candles, incense, religious icons, framed photographs, prayer flags...
even tools, musical instruments, dolls, teddy bears, and soft drinks decorate these sacred spaces...
anything that the Loved Ones, living on in Spirit, would appreciate, is provided...
for the Dead, it is said, do come back to party.

Do not stand at my grave and weep.
I am not there, I do not sleep.
I am a thousand winds that blow.
I am the diamond glints on the snow.
I am the sunlight on the ripened grain.
I am the gentle Autumn's rain.

When you awaken in the morning hush,
I am the swift uplifting rush
of quiet birds in circled flight.
I am the soft stars that shine at night.
Do not stand at my grave and cry:
I am not there, I did not die.
-from Poems for the Day of the Dead
The Happy Dead! May they party in peace.
a few good Wee Men...
yes, SOME Dollmaking DID get done this month...
Tree Spirits are starting to blow back into the picture...
and there were quite a few unfinished Doll Bodies just waiting around for
New Heads!
(so those gals finally got their Heads together.)
Well, and what with Christmas-in-July looming,
t'was long past time to consider leaving some Doll Bodies
HOLLOW and reinforcing them for use as
Tree Toppers!
so, it's yes to Angels....
Cardinals appear

when Angels are near.

The Baby Birds did good.
ah... the precious moments with you...

...

perches and playgrounds

scruffy... hopping.

Flight zones. Wing feathers.

Preening. mealworms.

a chirp from some clever hiding place

big old toothpick-leg stretches

the shapes of leaves morphing into small brown bodies

a swift fly-by. a solid landing.

hey! can't see you when you're on my hat!

accomplishments noted. with sheer Delight.

every step along the way heralded. high fives.

you two tiny birds grew

in Time... to master

the Art of Flying!

silhouetted against cloud and rainbow

your home was always the sky.

You flew.

You flew...

real good too.
"Cardinals appear when angels are near.

Sit outside and drink your tea.

Keep a lookout for the little red bird —

It is there your loved one will be."

–Victoria McGovern
Perhaps all along.. she "entertained Angels unawares…"
And perhaps now and forever she will watch for her little red (and brown) birds
and each Cardinal that she sees, she will know better, for having known you.
With Love for Flash and Tootie
Summer Solstice… June 20, 2016
Bird-Inspired Creations.
Flash shows the Dollmaker what the tail is supposed to look like...
Thanks, Flash and Tootie, for the Inspiration and Instruction....
...for the Blessings of Being Alive and Being Birds...
and, after all, for the love.
You Tube link:
entitled: ( No! No Hopping on the Camera!)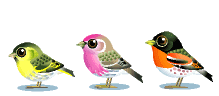 And yet another
You Tube Video of Flash and Tootie Eating:
https://www.youtube.com/watch?v=M16gmeirFcg
and as for that "other miracle"...
Century Plant Blooms Profusely!
After two months... we Now have Full Bloom!
The Dollmaker learned that the Zoom on her (real) Camera
worked much better to capture faraway details
than the Zoom on her new phone camera...
(that BEE in the flower is a pretty small faraway detail!)
From her own Garden of Golden Tomatoes...

Thanks goes out to:
and

Cool Text: Free Graphics Generator
and
Web Counter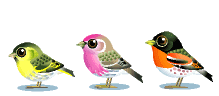 Back to Home Page
P
lease notice that you can
Unsubscribe
from this newsletter at any time