The Wee Peeple Newsletter
April 2019 Issue 146

Introducing...

Kind of star-fishy there...
Now, the Dollmaker has never claimed to be much of a "Felter"
so this is the simplest idea possible
and yet.. delightfully satisfying...
...to construct a small spliced-fiber fabric by hand...
(warning: not for thin, singular or squeamish needles!

requires a strong burlap "pillow"

and a heavy-duty multi-needle poking device)

(the Dollmaker's felting tool has 8 needles!)
Ultimately, this Galaxy of Starburst Coasters and Doilies
simply presents a golden opportunity for the Dollmaker to use hundreds of.. LOCKS!!
Why does she do it? Why Why must she continue to add more to her already vast collection of sheep locks?
Could it be that Spiraling Curls demonstrate the same principles as Black Holes? Extreme Gravitational Pull?
What kind of manic Vision is this- which requires MORE and MORE and MORE Spiraling!!!

the Dollmaker's canny adventurer brother, Captain Paul, sent 11 skeins of
strange "Dreadlocks"!
(a box in the mail from brother Paul will invariably contain the "completely unexpected")
This is wool! and wool is used for felting... so... the felting continued...
The Dollmaker was able to felt together 3 huge wigs from a single skein of this "dreadlock wool"
and then, she found more "dreads" draped decoratively around the room... gift dreads from
actual Felters, like Joyce Hazelrig..
These were more colorful (as is Joyce, herself) and The Dollmaker felted them right in...
constructing Robes as well as Wigs... (so much for doilies...lol)
This whole group of Shamanic Characters all possess narrow sculpted faces
(prone to shadows, sharp-featured, and terribly serious...)
The overpowering draping handspun wool elements required
a more primitive (drawn from the materials of the forest) Stick Doll Style...
similar to the Roothead Shamen of last month...
These sharp featured Stick-based Dolls have a decisive Presence
with or without - big hair...
The Counselor
A "miniature version" of "The Serious Men"
held forth at the next meeting as well...
Around that time, (somewhat altered) Forks were coming together as Heads.
And, verily, these Doll Constructions became known as
the "Fork Heads".
This one here is the Bell-Ringer Fork Head.
(constructed entirely out of a very slowly diminishing supply of home-burned metal...!)

Feeding People is an awesome thing to do.
is a national grassroots effort to fight hunger.
In exchange for a cash donation,
guests are invited to an all-you-can-eat meal and each person gets to keep
a really unique one-of-a-kind bowl!
Of course it rained again this year,

but nowadays the event is held indoors,

so the soup aficionados of Bastrop County

were nice and dry and ready to revel...

...the Dollmaker was invited to return as a vendor..

and Once again...
for this gala occasion the Dollmaker made a new batch of
wearable Owl Pins



remember last year's
Well, the Dollmaker's Art Bra was selected again this year!!
will go down the runway on June 8th!

~ each year, presented by ~
where a jolly group of Women- all Breast Cancer Survivors-
will model fantastical Art Bras

for their annual Runway Extravaganza-
the Breast Cancer Resource Centerís flagship fundraiser.
The Dollmaker is honored to be included in this event once again! yay!
And! Carol's Art Bra was selected also- so they are BOTH going down the Runway!
Very exciting!!! Watch for that in June!
...over at the Doll Shoppe...
the Garden has some new wide-open spaces (which are somewhat hard to get used to! lol)
The stump of that monster pine tree and the sidewalk it mangled
have been removed, the area leveled, and the back fence returned to position..
(all of it a very good job- even that fence is now stronger than it was before! Kudos to site manager Tim and his crews)
The Times, they are a'changin...

Requiem for an Old Oak Tree...
During a particularly fierce April rainstorm
another enormous branch broke off- it was Time...
the Dollmaker's beloved Oak finally came down this month as well.
So sad to see that beautiful tree- gone now!
But! The Tree-cutters saved the beloved Squirrel Hole!
And left the Dollmaker a specially carved Stump
an inspiring Stump worthy of a Shrine...
...from the dear old oak stump... a Fairy Tree House has been born...
On the Day the bicyclers held their 72-mile bike ride for Charity
the Dollmaker cut cedar planks and added a rudimentary roof...
and the Tree-Cutter Guy agreed to come back and carve a Doorway...
maybe even a window or two...
after which, they plan to somehow install solar lighting...
it's going to be a fine Memorial to an Awesome Tree,
which the Dollmaker truly loved.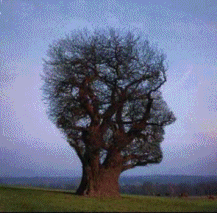 >
Thanks goes out to:
and

Cool Text: Free Graphics Generator
and
Web Counter
Back to Home Page

P
lease notice that you can
Unsubscribe
from this newsletter at any time