The Wee Peeple Newsletter
June 2023 Issue 196
June... Time to order Dollmaking Supplies...
a Jolly Task!
Usually starting with (what used to be) the smallest dolls...
the Clothespin Angels... no big deal, right?
right.
Well, this year the Angel Wings had to be ordered from a different company
and they turned out to be exceedingly
FLIMSY!
oh no!
Oh yes.
The new Angel Wings were too frail to use on the Clothespin Dolls.
And there were a lot of new wings.
The Dolls were not amused.
...but the Dollmaker was undaunted.
She figured they could be used on a (very) Mini-sized doll
if the Wings were reinforced...
leading "naturally" to what our Droll Darwinian Dollmaker likes to refer to as the
"Origin of Species"...
The main attribute of this "new species", besides the Frail Wings, being
Fancy FRINGES
(Metallic, and Poly-chain, and Holographic, oh my!)
At the moment the Mini-Angels are made to be
but they COULD be Pins or Hair Clips or it was even suggested
that smaller ones could have magnet backs.
So- any (or none) of that could happen...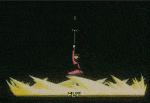 All that said, although the majority of the New Wings were unsuitable
for Clothespin Dolls,
there is ONE New GROUP of Wings that has potential...
This group:
These very cool Iridescent Wings have Strength!
Only One Mini-Angel has been made So far using them:
but these wings have a Destiny!

Meanwhile, experimental Resin Wings are also
"in the wings"...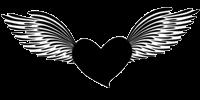 Last month the Dollmaker had just begun
to obsess upon
This month cousin Laurie sent more Boat Shells
and the Dollmaker
found a multitude of cool beads to string along with them...
She also discovered that she could punch a small hole
through the Boat Shells to hang them neatly from their bottom edge.
So.. anyone who came to visit the Dollmaker during the month of June
departed with a Dangly Thing or two,
(whether they had any idea of what to do with them or not!)
Of course the Dolls did crowd in and acquired quite a few for themselves..
particularly these Ladies...

The Green Witches of Summer!
Garden Witches trade magical beaded headwear for hats...
(at least until October...)
The Peach Harvest was amazing this year.
The Magnificent Mullein
continued to grow up into the treetops...
The Stargazer Lilies (in their second year)
bloomed furiously
and John R. arrived at the Dollmaker's place
with a huge Sago Palm in his car, which he proceeded to plant
where it will have lots of room to grow..
so... even though the Dollmaker really didn't do much gardening this season
There was quite a lot of activity out there!!
An early visit to the Doll Shoppe during the "off season"
That Pear Tree out front is once again attacking the Shoppe!
Pictures were taken and a work order submitted to cut those trees back!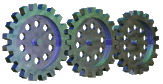 Sporting New Beaks!
The Search for the Perfect Beak for these guys is over!
The Dollmaker had never heard of
"Pocket Hole Plugs"
but they are, indeed, a Thing.
Bev knew about them, they are used in fine carpentry to plug up
angular screw holes.
Whatever their main function, they work splendidly as
Steampunk Owl Beaks!
So, More Owls, featuring recycled circular objects, and perfect beaks
are on the way!


And! After a year of searching the used car market for a reliable car
the Dollmaker finally found one! a 2014 Honda CRV!
She is feeling much better about taking those long trips to
the Texas Renaissance Festival in the fall.
She has named her new car
The Plum!
She will see you down the road!
Back to Home Page
Thanks goes out to:

Cool Text: Free Graphics Generator
and
Web Counter