The Wee Peeple Newsletter
February 2010 Issue 36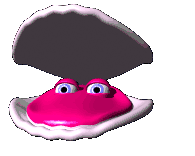 The Dollmaker's Shelling Adventure
Saying farewell to Shannon at the airport, the Dollmaker asked her:
"What would you like me to bring you back from Florida, my darling daughter?"
Shannon answered... "A big beautiful shell!"
Good Answer! Okay! No problem!
The Dollmaker was going to the "shelling capital of the world"
and she was on a mission to find the big beauties.
Now, the whole state of Florida and her pearly strings of neighboring islands sit jauntily upon a limestone bedrock containing the skeletal remains of sea creatures, shells, and coral.

Florida is a most fossiliferous place.
Fossils under 65 million years old have their original shell material, so in Florida it's not easy to tell whether the shells are

Recent or Fossil

The fossil shells look as good as the recent ones.
Probably Ice Age Fossils

These Whelks came from Cabbage Key and Cayo Costa-

Islands on the Gulf side of Florida

Perhaps one of these would be the

Shell Gift

for daughter Shannon....

hmmm...
The Dollmaker had lots of fun in Florida,
but before too long it was time for Captain Paul (brother Paul) to go back to work
and time for traveling companion, John, to move along and go to visit his cousins in Winterhaven.
so the Dollmaker was faced with a choice-
Either she could stay home alone the next day at her brother's house and do nothing

or she could go on this cruise to the Bahamas.

hmmm.

She took the cruise.
Right- even though the Dollmaker really doesn't like to be onboard a ship,
especially if it's in the water, any time ever, for any reason,
and she does recall a time or two swearing that never in a million years
would she ever be caught dead on a cruise ship...
Captain Paul talked her into trying Dramamine. It worked.
Every time the boat tipped as she was staggering across the deck,
the Dollmaker actually got into the swing of things- and never once felt queasy at all.
Don't ask how it works but it works!

So anyway, the Dollmaker enjoyed the breezy ride,
as the waiters kept coming back with more free drinks,
and by the time the ship got to the port at Grand Bahama Island,
the Dollmaker was ready to pass out.
Instead, it was time to gather her wits and her baggage and her passport and go through customs....
this being another country and all.
Ok so once she got through that
and the taxi ride to the hotel and the enormous line at the desk in the hotel lobby,
throwing open her suitcase and grabbing her shorts and her collection bags,
she raced out the door heading for the beaches and the SHELLS!
Yippee! the Dollmaker was finally here! In the land of beautiful conch shells!
And her only problem was going to be hauling them out of there with her bad back.
But she had her trusty rolling shopping bag and so she started rolling her way down
the curvy paths toward the beach! yay!
Well, the sand was smooth and clean and the water was shallow and turquoise
and the air was warm and it all would have seemed like a glorious paradise
if it weren't for one little problem... there were NO SHELLS! NONE! NADA!
The Dollmaker rolled her way along about a mile of pristine flat sandy beach searching left and right, up and down, in and out,

and she had a single handful of pretty ordinary shells to show for it.

This had to be the wrong beach!
So she raced back to the hotel.
She asked the desk clerk and everyone else in the lobby what beach
was the beach she could go to - to find the shells!
The water taxi driver looked like Eddie Murphy!

The Dollmaker was directed to take the Water Taxi to Port Lucaya where she was told she could roll her way through the international marketplace there and go across the street and around the gigantic Western Hotel there and check out the beach in front of that hotel.

Got it.

She zoomed off and in an amazingly short amount of time, considering the maze she had to go through to get there, she was on that beach.

The minute she saw the beach, she knew.
There were no shells here either.

The whole beach was just flat.

Beautiful in the setting sun, but painfully free of anything even resembling a shell.

She couldn't believe it.

She had to give up and go back.
It was dark.
The dejected Dollmaker rolled back through the marketplace,
ate some dinner, trudged back down the pier to the water taxi and to her hotel
where she dropped off her completely empty sad little rolling shopping bag
and went back to the beach alone to walk and think.
What was happening?

Wherever did she get the crazy idea that there would be shells all over the place in the Bahamas?
The Dollmaker walked along on the cool barren sand
and thought about the awesome pictures she had seen on the Internet-
they were like National Geographic photographs!
Big piles of gorgeous Queen Conch Shells.
Mountains of the most beautiful shells you ever saw.
And she thought of course that since there were big piles in the pictures,
there would be big piles on the beaches...
Hey... wait a minute!

Just then it occurred to her
that all along she had been asking everyone the wrong question-
that was why she was getting the wrong answer!
The Dollmaker raced back to the hotel and grabbed her map.
The first person she saw was the guard at the parking area in his little guard shack.
She moseyed on up to him and asked the right question:
Hey Mon, where do I need to go

to take a picture

of those big piles of conch shells

like I've seen in National Geographic?

Bingo!
Oh those big piles of conch shells! Yes! Like in National Geographic!
You have to go way outside of town- to Fisherman's Hole Road.

Oh she couldn't believe this- music to her ears!
She was getting the information!
The accommodating guard shack mon
showed the Dollmaker on the map just where Fisherman's Hole Road was.
It was fairly far from her hotel.
But she had til 4PM the next day,
when she had to be back at the ship.
She asked him how she could get there.
He recommended taking the bus. No problem.

The Dollmaker was directed to take the water taxi and go through the market. Then down the street to the bus stop and take the bus to Downtown and from there she was to cross the median and take another bus to Fisherman's Hole Road.

Not a problem. She had a PLAN again! YES.
The Dollmaker got up the next day and was ON the 8AM Water Taxi.
The bus picked her up and she made it to downtown
and the second bus dropped her off in the middle of nowhere-
the only thing out there was water. And two fishing shacks...
and a couple of native men cleaning fish...
The Dollmaker got off the bus and it zoomed away.
It was quiet as she took in what lay before her.
The water was on both sides of the road.
She got out on the left hand side of the bus, and gasped!
The entire beach in front of her was textured with hundreds of old bleached conch shells.
It was a conch shell graveyard! Wow!
But when she turned around and saw what was on the other side of the street,
she could not believe her eyes!
The Dollmaker unabashedly galloped across the street like a frisky pony!
The wheels of her rolling shopping bag were airborne! OMG!
Laid out before her, as far as the eye could see!
Three feet deep in some places. There were MILLIONS OF THEM!
The piles of discarded Queen Conch Shells ran all the way down the beach
in both directions and into the water and beyond.
The Dollmaker crossed the street and fell to her knees before them.
She knew she could only carry about seven of them out of there.
They were big and heavy
and all she had was her little rolling shopping bag made of canvas, and some plastic bags.
So she set to work immediately.
The Dollmaker photographed them from every direction and from every angle,
and then she crept carefully over them to the water's edge
to select a few that were clean to take with her.
After she filled her little rolling shopping bag, (with seven shells) she said hello to the two friendly fishermen and took some pictures of them too.

They hailed the bus for her- the same bus- on it's way back to downtown, and off she went, back the way she came, enjoying the ride, chatting with the natives, and eventually drag/rolling her suitcase full of Queen Conch Shells back to her hotel.
Later that day, when the native ladies at the market heard what she had done,
that she had located the source of the conch shells and taken a city bus instead of a taxi,
one of them paid her the best compliment she received on her whole vacation...
she said to the Dollmaker:
You are a smart traveler!
But the best part was

that the Dollmaker was able to bring home exactly what her daughter had asked for.

When she finally opened her suitcase in her own livingroom at home and showed daughter Shannon the seven big beautiful conch shells and told her to pick whatever one she wanted-

That was too cool, mon.

Ok now...
Are you Ready to MAKE A DOLL!?
It's time for
The Annual March Beginner Doll Class
squeezing it in before Scarborough Faire starts!
When the Ladies want a Doll Class
by golly the Dollmaker thinks they should have one!
So...
HERE IT IS:
You-all are hereby invited to a

Beginner Dollmaking Experience

Beginner Class

and Doll Body:

$85.00/person

Saturday,

March 13th, 2010

special price for two people signing up together:

$160 for two

Class Starts at 11AM

the classes usually run

about 6-7 hours

We take a snack break

at around 3:00

Register online or by phone
Please let the Dollmaker know before

March 9th

Register by Email:

or call:

512-332-6680

Class Limit: Nine people


now let's talk about what's going to happen....
Creating a Doll

What happens before a Doll Class ever gets started?
Novice Dollmakers usually feel some kind of a "calling" for this.
Like when the grandaughter calls on the phone and actually wants to do something together with you.
That is the time to be ready with your VISION.
It's GOOD to have a Vision.
You close your eyes and you behold
a glorious Lady of the Lake rising in a candelabra-style waterspout
gleaming like 12 suns and balancing a twinkling star on each fingertip...
and then again, there are more than a few wistful souls out there who close their eyes
and nothing happens. But still... They too, want to make a doll...


... not to worry!

There are two Ways to work:
1. We work, knowing what we are doing.
-or-
2. We work, not knowing what we are doing.

Either way is fine. Dollmaking is like this:
It often happens, when we are, in New Age Parlance, "trusting our Process",
that the "Process" takes over,
and it's not about the contrived formulation of 'IDEAS' anymore,
but instead, it's alive now, and we begin to speak to our creation in it's own language,
which is the language of color and aesthetic design,
not the language of names and titles,
and we serve the work best just by bringing to it whatever it says it needs.
So...

What Should you Bring to the Class...
The class is divided into three parts:
1. Build the doll body and decorate it
2. Take a break and
3. Design, transfer and paint the Face
The Dollmaker provides the Doll Body and Head,
with the soft sculpture nose already sewn in. but You will need to...

BRING:
1. ONE VERY TEENY PAINTBRUSH (size 00 or 000)
2. A LOW-TEMP FULL SIZED
HOT GLUE GUN
(not the baby size hot glue guns)
3. And... YOUR SPECIAL STUFF
(which is a category in itself)

YOUR SPECIAL STUFF
Ok, here we go...
Know that some students have arrived at this class with ROLLING DRAWERS full of stuff...
bushel baskets, hatboxes, jewelry boxes, cardboard boxes-
Filled to the brim with treasures:
meaningful keepsakes, strings of beads, curly wigs,
yards and yards of fabrics from the finest silks to some pretty tough leather,
driftwood and dried flowers, heirloom lockets with little keys, vast arrays of colorful shells,
bones, fossils, ribbons, grasses, lace, tiny butterflies, acorns, studs, and pinecones, to mention a few...
Your special stuff could all come from your closets and drawers, from your grandmother's attic,
or you could go on a wild shopping spree,
(a lot of ladies really adore this part- where they get to go on a wild shopping spree,
never mind that
they might have a five-story house crammed with more dollmaking supplies than they could use in a lifetime!)

Smithville, Texas

The Recycling Issue got put on hold
but here's Cream of Potato Boy anyway...
There's always so much more to write, but this Issue is time-sensitive
since folks who want to take the class need time to plan for it...
so....
til next time.....
Contact Information

Phone Kandra: 512-332-6680

Write: PO Box 326 Smithville, Tx. 78957

Email: BigKandra




Texas Renaissance Festival

Wee Peeple Shoppe # 145
Music used in the Slideshow
Love and Happiness sung by EmmyLou Harris and Mark Knopfler
Photos above are of a recycled evaporated milk can turned into a treasured keepsake (pencil holder)
using TILE ADHESIVE for brother Paul covered with memorabilia and shells from our adventures together....
**********************************

*******************