The Wee Peeple Newsletter
May 2010 Issue 39
"Who... are YOU?"
-the Caterpillar
The Alice in Wonderland Collection
is Growing!
Doll Assemblages
constructed from ordinary found objects
The first Hookah-Smoking Caterpillar
was constructed around a vitamin bottle which was adhered to two wooden doll stands which were cemented to
a yogurt container filled with gravel. He's heavier than he looks.
He smokes from a phone charger cord with a push-pin stuck into the end of it,
connected to the top of a cut-down Crest toothpaste tube cemented to another vitamin bottle, (the Hookah)
which was then also adhered to another wooden doll stand....
The hookah gains it's height from a plastic spool and a skewered stack of beads.
The smoke is polyester fiberfill.

****************************************************
"Oh frabjous day! Callooh! Callay!"
"We're ALL Mad Here!"
Alice: But I don't want to go among mad people.
The Cat: Oh, you can't help that. We're all mad here. I'm mad. You're mad.
Alice: How do you know I'm mad?
The Cat: You must be. Or you wouldn't have come here.
Alice: Would you tell me, please, which way I ought to go from here?
The Cat: That depends a good deal on where you want to get to...
Alice: I don't much care where.
The Cat: Then it doesn't much matter which way you go.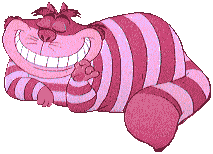 ("Make a doll using the classic tale of Alice in Wonderland as inspiration.
Any character is acceptable.")
The Alice in Wonderland
Quarterly Art Doll Challenge
...is to blame for all these strange un-doll-like characters emerging...
This is Andrea

and her Alice in Wonderland Collection.

She got the two Tweedles last month, the Cheshire Cat she is holding, and one of the Hookah-Smoking Caterpillars to add to her cool Collection! You go girl!
What will it be next?
yikes....
Why is this doll getting a bath?
More Hurricane Dolls get makeovers
| | |
| --- | --- |
| | This doll spent two weeks under mud and was still so dirty her hair had to be removed and she had to be scrubbed in the sink |
Before... During... and After her "ReMake"
Shaman Doll comes back from the "Nether Realms"
wow- this doll was one bedraggled MESS! Well, it was a most daring escapade!
To be buried under the earth for two weeks and survive... She is one tough Shamanic babe.
Hurricane Ike Doll Make-overs - stay tuned for more...
++++++++++++++++++++++++++++++++++++++++++++++++++++++++
"Dollmaking is fun."

yay!
Remember the Bottle Dolls

which were splendidly reinforced by the miracle product:

Tile Adhesive...

Well, Tile Adhesive works on plastic bottles too!

Recycle! Re-Use! ReCreate!
What are you doing Memorial Day Monday?
at
Open Rain or Shine

One more weekend!
Wee Peeple Customers really love animals.

So, what's been shakin at the

Wee Peeple Doll Arte Gallerie?

Steampunk Dolls have been Understood! YES!

Dolls and people smiling together.
| | | |
| --- | --- | --- |
| Flower Hair Clips: perfect for princesses who no longer wish to wear those pesky and burdensome Crowns! | The occasional intrepid compass-checking totally mad stud-muffin in a flamboyant top hat- haughtily luring innocents to join him "Elsewhere" for Tea and Political Nonsense Poetry. | Not since 1189 have we seen these curly-style hats become the Rage in Fashion! |
| | | |
Renaissance Maidens who make up their own minds adorned themselves in richly luxurious BeadHead Dolls

Dollmakers and Hatmakers read scrolls and acted silly...

...while Fairies changed innocent customers from pink to blue and back to pink again....
They say everyone has their "Double"

This fellow could have won a Steampunk Doll Look-alike Contest

A great fan of the BeadHead Dolls- This charming lady walked in wearing two BeadHead Dolls and bought a third to put in her hair! Way to Go!
...a jolly time was had by all....
i
Big Hugs and Thank You's to Cassie, our Wee Peeple Shoppe Helper
and Mystick, our Wee Peeple Parade Person:
(yes, you DO notice a resemblance- Cassie and Mysti are cousins)
| | | |
| --- | --- | --- |
| | And a "Monster" Thanks goes out to Traveling Companion JOHN BOND who unfailingly drove the Dollmaker and the Wee Peeple Dolls back and forth to Scarborough Faire in his silver air-conditioned chariot every weekend and hauled all kinds of luggage including Mason the dog up the hill to the truck every Sunday! What a guy! | |

Hope all you Moms out there had an Awesome Mother's Day!
Thank You Shannon for the Beautiful Roses!
Member

'Twas brillig, and the slithy toves

Did gyre and gimble in the wabe:

All mimsy were the borogoves,

And the mome raths outgrabe.

-Lewis Carroll

Phone Kandra: 512-332-6680

Write: PO Box 326 Smithville, Tx. 78957

Email: BigKandra

In the fall come and see the Wee Peeple Dolls

at our location at the

Texas Renaissance Festival.

Shoppe #145
IN the NOTHING-TO-DO-WITH-DOLLS DEPARTMENT:
http://www.flixxy.com/zero-pollution-automobile.htm
(Check out this LINK for a Zero Pollution Automobile that runs on AIR!)